Our Feedstocks
In addition to our "drop-in" fuel and chemical characteristics, another of Virent's key differentiators is the ability to use a wide variety of feedstocks in the BioForming® process. Our patented catalytic process can effectively convert conventional feedstocks (beet sugar, sugar cane, corn starch) as well as next generation cellulosic feedstocks (bagasse, corn stover, grasses, sorghum and wood). We're leading the industry in our ability to generate high-value hydrocarbons from a wide variety of plant sugars.
The Advantages of Feedstock Flexibility
Feedstock Transition
Virent's ability to tune its catalytic conversion process means that customers can start using a feedstock that makes sense today (based on price, availability or any other factor) with a barrier-free journey to another feedstock in the future. As economics and availability dictate, a Virent facility can initially utilize conventional feedstocks to deliver cost effective fuels and chemicals, moving to cellulosic biomass as the technology ramps up and the economics are proven.
Feedstock Optionality
The cost of feedstock can have significant impact on the economics of biofuels and biochemicals, making it challenging to deliver cost effective renewable fuels and chemicals. Virent mitigates these risks by keeping feedstock options open. Virent's BioForming® process is feedstock flexible; we can use a wide variety of plant sugars to meet customers' fuel or chemical needs.
Feedstock Blends
Unlike other processes that use a specific process, with a specific sugar to create a specific molecule, Virent's BioForming® process can not only process a variety of plant sugars but it can also process the variety simultaneously.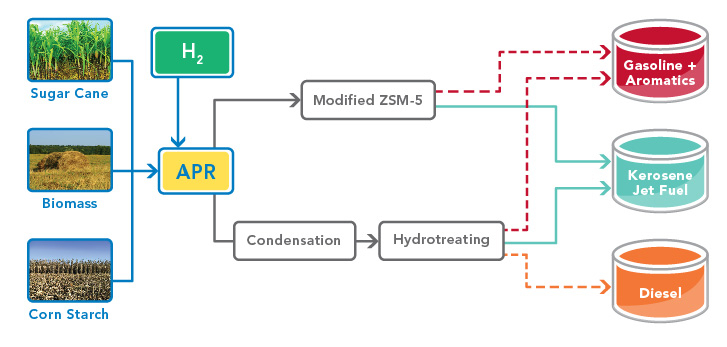 This is a particularly important differentiator for using cellulosic biomass, which contains a wide variety of plant sugars. We can accept and convert them all in our continuous catalytic conversion process, maximizing the sugars we process. This requires less processing of the cellulosic sugars with very little goes to waste, providing customers a more effective solution vs industry alternatives.
Location Flexibility
Because Virent's conversion process is feedstock flexible, it can work around the world. Companies can utilize Virent's technology for fuels and chemicals anywhere that plant sugars exist. Virent's technology can be deployed on most every continent, leveraging local sustainable agriculture, growing local economies and fostering energy independence.
How can Virent's feedstock flexibility streamline your operations?