Career Benefits
Virent's success is due to the contributions of every employee every day. Joining our team is a unique opportunity. We seek world-class candidates who are motivated to make a difference – for themselves, for the Virent team and for the world!
Virent's employees enjoy competitive compensation and benefits, along with opportunities for career advancement.
Our benefits include:
Stock Options
Variable Pay Program
Paid Time Off
Medical, Dental, and Vision Insurance, Life & ADD Insurance
Flexible Spending Accounts
Disability Insurance
401k Matching
Tuition Reimbursement
Employee Recognition Program
On-Site Fitness Room
Company-sponsored team sporting events
Participation in charitable and community activities
COMPANY EVENTS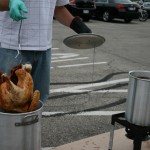 Annual Fried Food Extravaganza!
Will it fry? That is the question. And the answer is usually, YES! Staples like turkeys, wings, shrimp, fries and onion rings are accompanied by more novel items such as Twinkies and Snicker bars. Yes, candy bars will fry, provided they're given a liquid nitrogen treatment ahead of time… and being Virent, we just happen to have that on hand.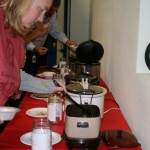 Annual Chili Cook-Off!
What better way to kick off our annual United Way giving campaign? The employee commons fills with crock pots, and after unlimited sampling, employees vote for their favorites with dollars, filling the Ball jars in front of each recipe, which included Habanero Inferno, Fire in the Hole, Boilermaker and Chicken Cholula. All proceeds go to benefit United Way!
Download Virent's Career Brochure
Download Virent's Co-op Brochure
We seek driven, energetic and innovative individuals who have a passion for excellence.