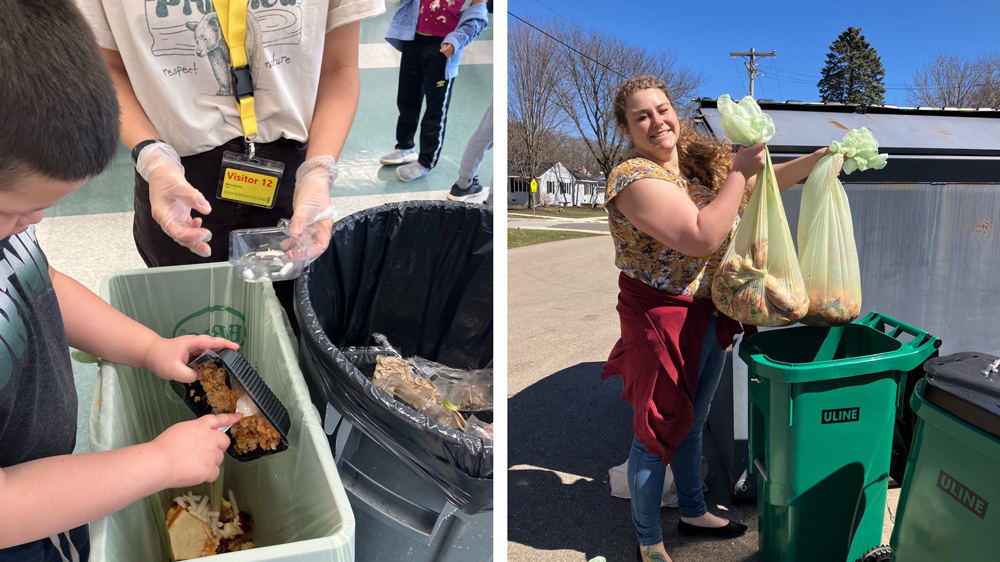 Madison Metropolitan School District in Wisconsin and the nonprofit organization Sustain Dane are working together to turn food waste into usable compost.
A community investment grant from Virent funded the school program that is educating students about recycling and sustainability.
The program has already diverted 550 pounds of food waste from the landfill and reached more than 2,600 students at five schools in the district.
Students at an elementary school in Madison, Wisconsin, are turning their lunch time food scraps into compost. Leaders say they have already diverted 550 pounds of foodwaste from the landfill. The food waste reduction program is helping students and staff at Madison Metropolitan School District cut food waste and increase sustainability.
Sustain Dane, a nonprofit organization focused on sustainability and wellbeing in Dane County, Wisconsin, used a $20,000 grant from Virent to launch the innovative program, and they are already seeing progress.
"MMSD is moving forward with many projects to lessen environmental impact and educate and inspire staff and students through responsible practices," said Josh Perkins, Director of Food and Nutrition at Madison Metropolitan School District. "This work, supporting mealtime composting and recycling in schools, will play an important part, and we are excited to see it unfold and expand in the district."
The program empowers students, staff and families to be active stewards of the environment through education and engagement. Beginning during the 2021-2022 school year, Sustain Dane worked with five elementary schools to explore sustainability solutions in the classroom and cafeteria. Sustain Dane used the funding from Virent to start recycling milk cartons and conduct food waste audits, which includes teaching students how to sort food into buckets that separate liquid, cartons and food waste from trash and then weighing the buckets. Since the project started, Sustain Dane's waste audits and education on recycling and food waste reduction have reached more than 2,600 students from five schools in the district.
Promising pilot at Shorewood
In November 2022, Shorewood Elementary was one of the first schools in the program to launch a composting program and since then has diverted over 550 pounds of food waste from the landfill. The food waste goes to Green Box Compost, a local composting service that uses an in-vessel aerobic composting system to turn food scraps into fertile compost. Piloting this system at Shorewood has proven that composting pick up at a large elementary school is feasible.
"This pilot program for school composting is seen as a model and resource for other area elementary schools," said Claire Oleksiak, Executive Director at Sustain Dane. "We have started discussions with other schools with higher volumes of food waste and hope to launch composting at another school by the end of this school year."
To help grow the programs, student leaders created intercom announcements for their school about the launch of composting. They were inspired to start a Green Team at school to share why it's important to be mindful of recycling and food waste and how everyone can be part of the solution for a greener environment.
"This is something very important because we are one of two schools that get this honor. If we do well, other schools will get to compost too." said one of the student leaders. "The compost will supply nutrients for other plants to grow. Thanks for doing your part to compost leftover food."